It's that time again, time for the final Friday of the month and
Over the Big Moon
is having their Friday Finale where we can all share our favorite Pinterest projects!!! I can't believe it but it is also the 4th and
Final Friday of 2011
! Wow, It's amazing how the year just flew by! I hope you all had a wonderful year!
Head on over to see every one's Pinterest projects and just scroll down to see mine.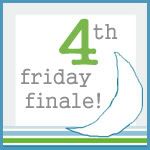 Christmas Tree Hand Prints
I love anything with my son's hand prints or footprint so when I saw this on Pinterest I knew I had to make it. I just grabbed one of our photo plaques and got to work! If you want to see the original pin click here. The original used a paint canvas but I like to dis stress stuff and wood is perfect for that look.
I also made this Chalkboard Table Top which I found
here
. My son already had this table in his toy room and it was ready for some new paint!
I just sanded the top, taped the edges and gave it two coats of chalkboard paint!
And that's it! So easy and my son loves it!
What do you think?